Thrift Haul With A Side Of Estate Sale Drama!
The weather is FINALLY warming up here in Ohio, and sale season is is gearing up as well. It's been a long winter of just hitting the occasional estate sale – I'm SO ready for church sales ( two big ones this coming weekend!!), flea markets, yard sales, and community garage sales… I'll be like a kid in a candy store!
That being said, let's dig into this weekend's haul, shall we? I went to one estate sale Friday morning, and bought nothing. (The drama happened there though, which I'll talk about in a minute.) Saturday morning I went to two sales, one estate sale where I bought some things, and another sale that was advertised as a 50 years of collecting downsizing sale, that turned out to be mostly crappy Christmas decorations. I bought nothing.
Sunday morning I went to a small flea market that happens every weekend about a half an hour from where I live. I bought some things, but forgot to take any photos while I was there. That's why I didn't put Out & About in the title of this post – I was indeed out and about, but I was so focused on shopping that I forgot to document it! I see this being a real problem, I'm just not in the habit I guess… I'll try to do better, I promise!
 So what did I get? Let me show ya!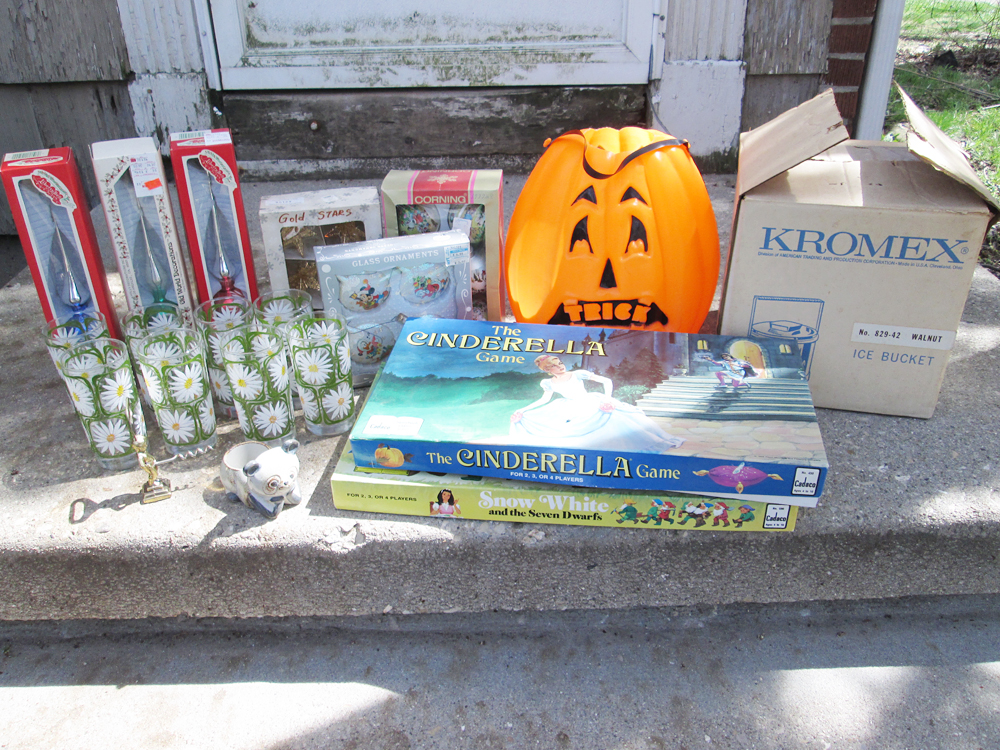 Estate Sale Haul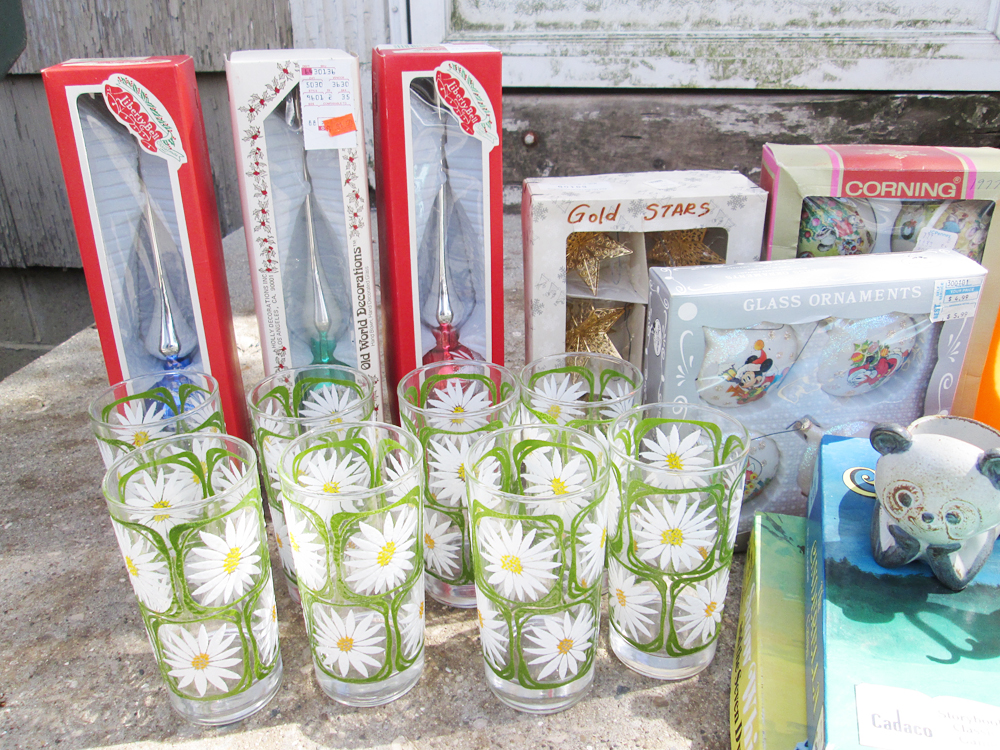 3 glass Christmas tree toppers, 8 daisy drinking glasses (love finding sets of 8!), 3 boxes of Christmas ornaments…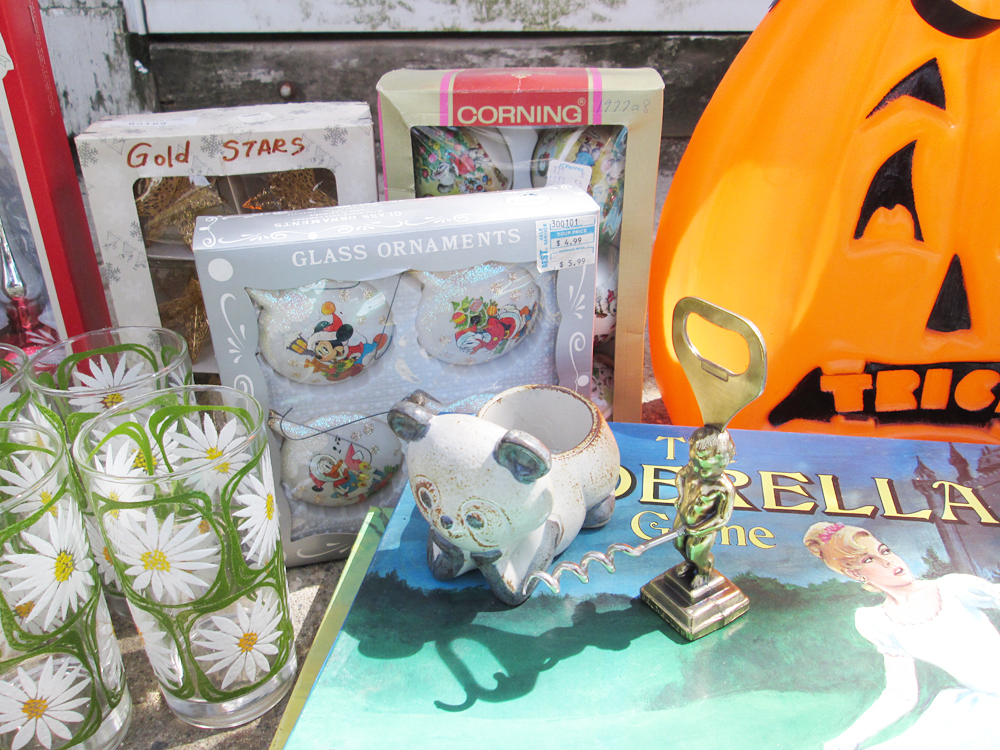 Cute panda candle holder (there were a TON of pandas there – someone was a collector, I managed to only bring one home though), naughty boy corkscrew / bottle opener combo (which makes me giggle like a middle school girl, I have to admit).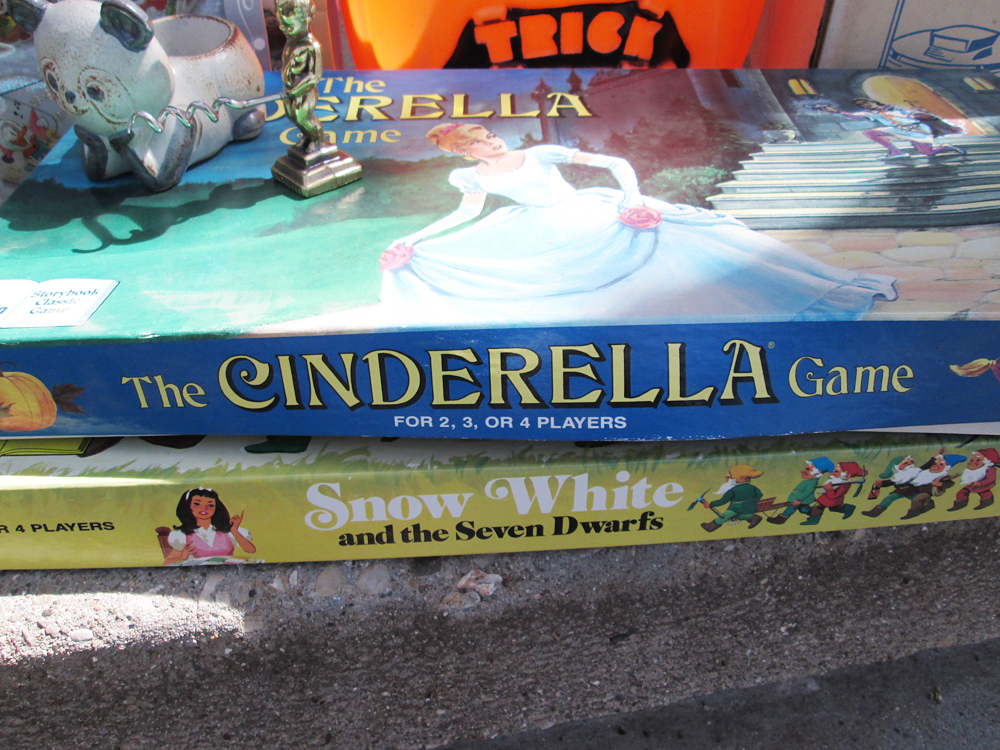 Cinderella & Snow White board games from the 70's – not Disney, which is interesting.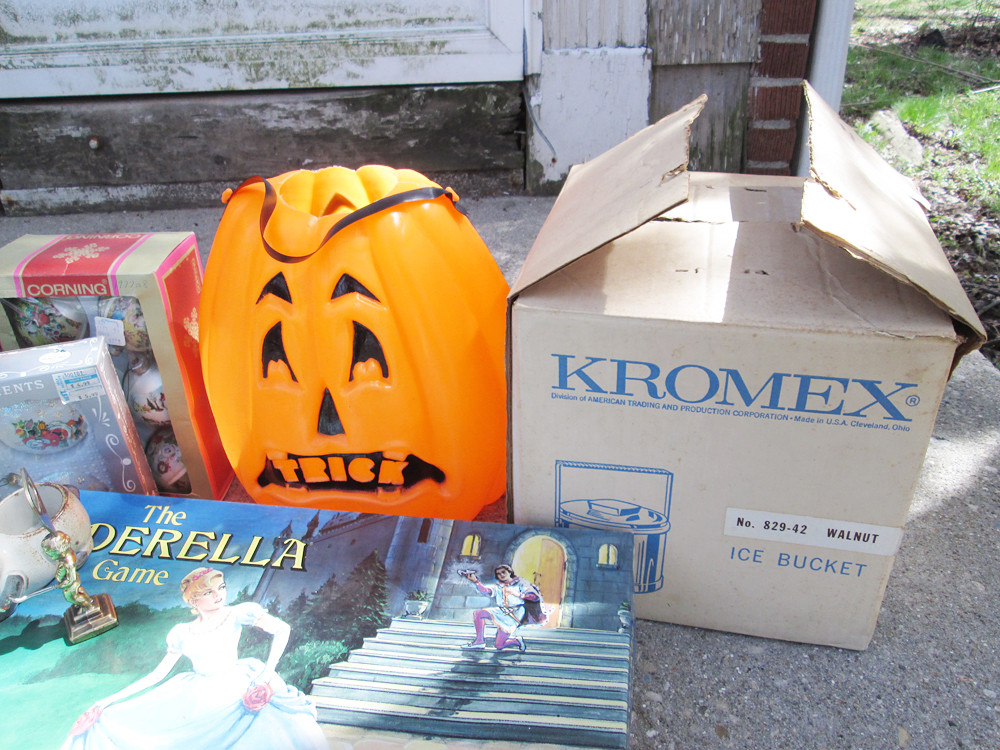 Awesome plastic Halloween trick or treat bucket, and a never used Kromex ice bucket!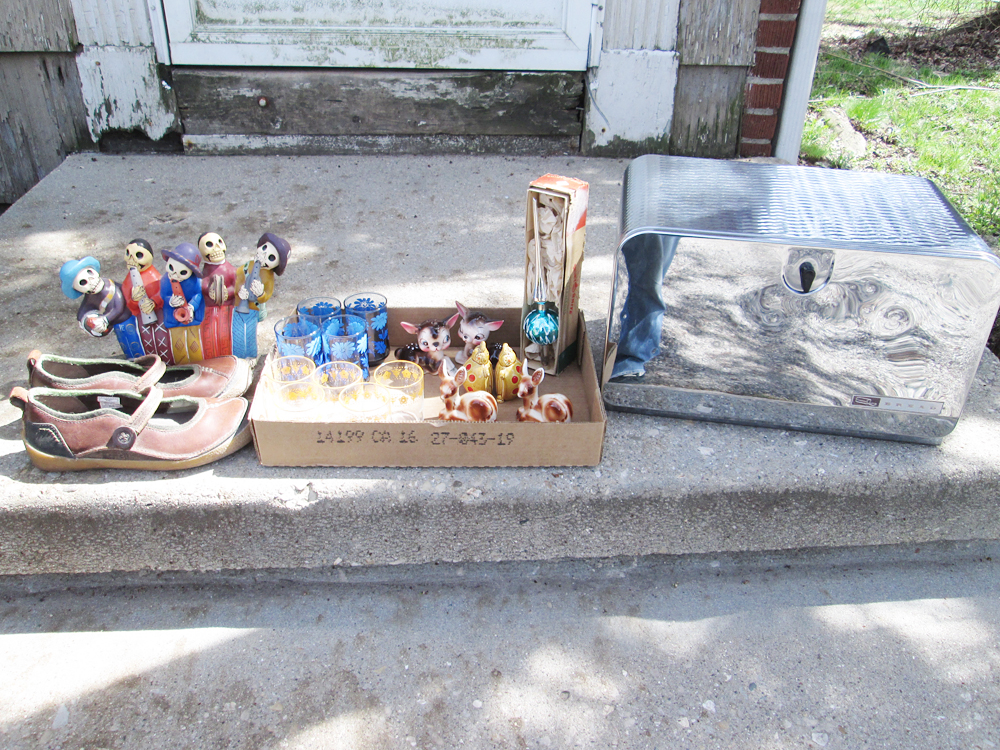 Flea Market Haul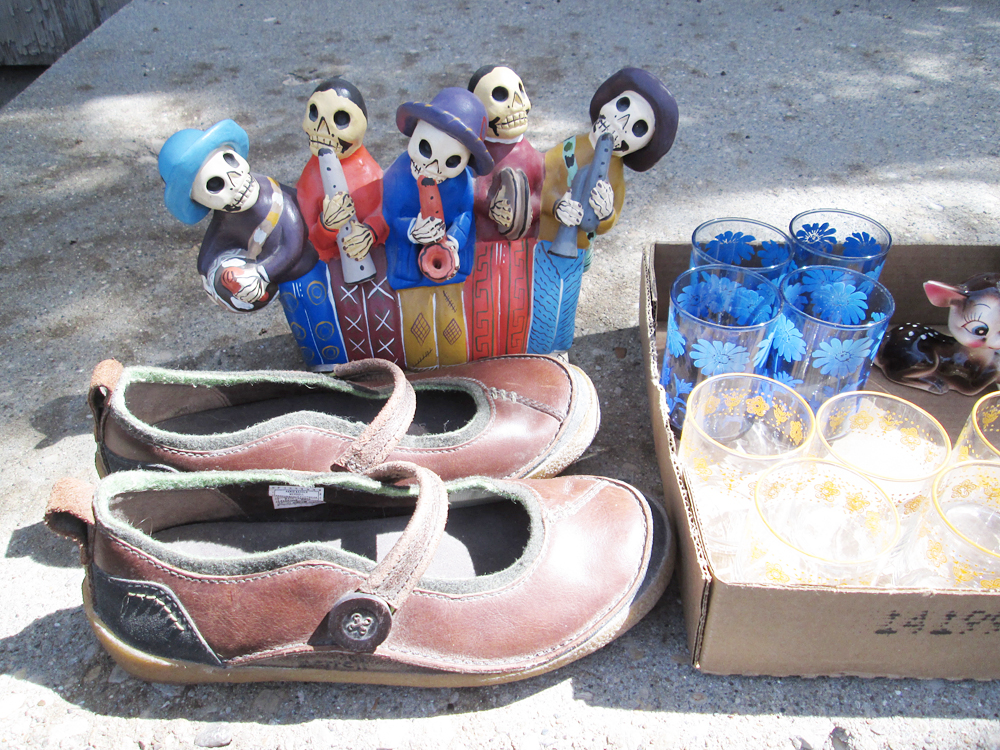 A pair of Merrell shoes, and a ceramic Mexican Day Of The Dead figurine that is also a flute!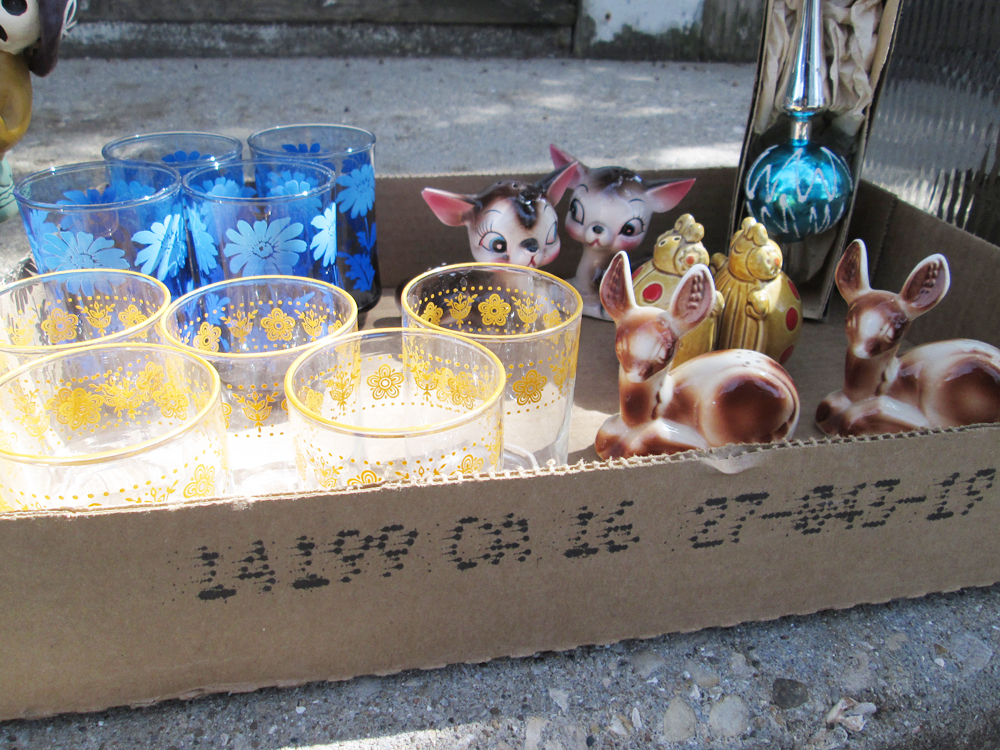 The blue flower glasses and the Butterfly Gold glasses my dad actually gave me – he picked them up at an auction. The two deer shaker sets and the super weird ladybug shakers I chose from a table full of shakers – I could have brought home a lot more, but I restrained myself. The 4th glass tree topper of the weekend my dad also gave me, another auction score. (My dad loves to hit the auctions – I'm not as much of a fan, so I am happy he is!)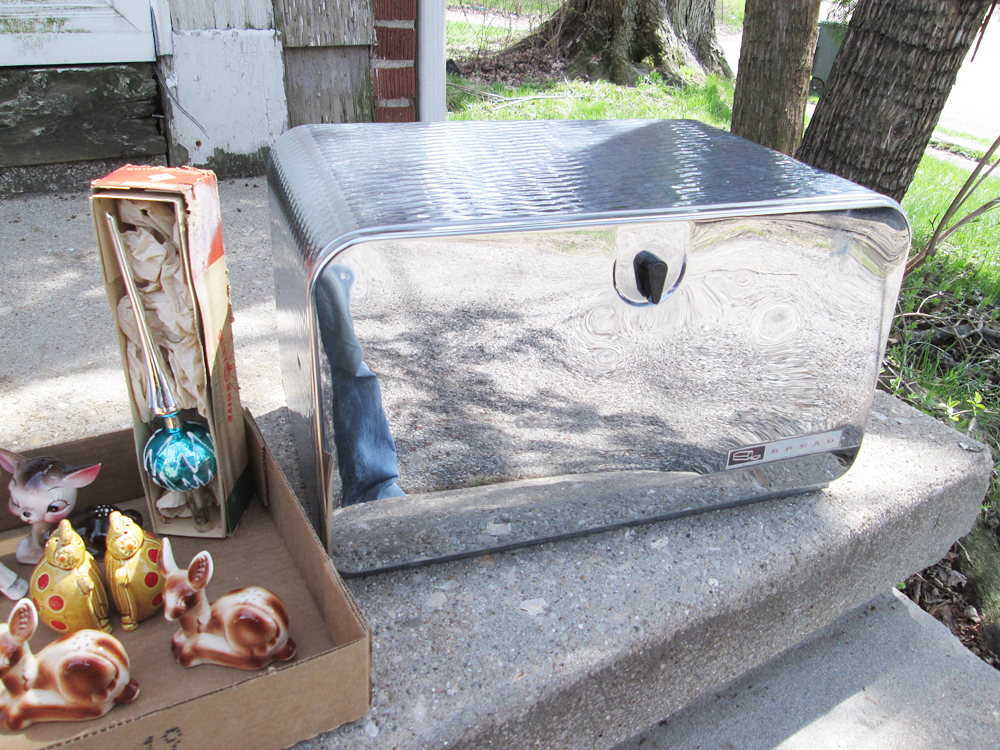 Last but not least, a super shiny bread box! No maker's name, just says USA, so I'll have to do some digging to see if I can find out..
Not too shabby of a haul… By the way, I realize that Thrift Haul as a title is probably not totally accurate, since most of what I buy doesn't come from thrift stores – BUT, it just reads so much easier than Estate Sale / Garage Sale / Flea Market haul that I'm going with it. ;)
On To The Estate Sale Drama…
If you go to enough estate sales, you will eventually run into drama. It doesn't happen a lot though, so I can't help but be caught off guard when it does happen…
The sale I went to Friday was on a small side street, in a small house – but there was a big crowd of people. This of course meant that the parking situation was a nightmare – people had packed the streets on both sides for a good chunk of the length of the street. This is usually how it is, especially on the smaller side streets, and I know it annoys the neighbors to no end.
I personally try to park as little like an asshole as humanly possible – in this case I actually parked quite a ways up the street, outside of the main cluster. As I was getting out of my van, what do I see coming up the street? A freaking semi truck! It looked like he was delivering landscaping stuff or something like that. I thought oh, no – that guy is not going to be able to squeeze through here! I went on inside, hoping that he would see it was impossible and not try it, and being thankful that he could probably get past my van if he did, at least I thought so…
So, I'm squeezing my way through the crowd of people inside when the front door opens and a super pissed off dude steps in, right in front of me. He starts screaming – "This is a public street! There is a semi truck stuck out there because of all of your cars! Move your (expletive deleted, lol) cars NOW!!"
He's basically screaming all of this right in my face, and I'm just standing there staring at him. The guy running the sale was all Dude, calm down, and his helper yelled Have a nice day! after him as he went back out the door. I looked outside, and yep, there was the semi in front of the house, stuck. I decided you know what? This is a good time to make my exit – that's enough drama for me for one morning!
What about you all – have you run into drama at sales before? Feel free to tell your stories in the comments section below, I'd love to hear them! :)










by