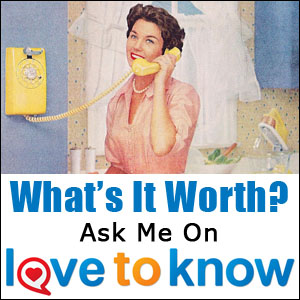 I've got a new gig – and it's awesome! I'm now officially an antiques and collectibles expert over on LoveToKnow's What's It Worth? website:
LoveToKnow's What's It Worth site is a place for enthusiasts and professionals to gather and discuss antiques and collectibles. Visitors can receive expert answers on questions about antique value, identification as well as general information and discussion about collectible items. Join the What's It Worth community by adding your insights, helping to identify antiques and vintage items and creating a great resource for all our enthusiasts.
How cool is that? I can't guarantee that I will be the one to answer your question, but between me, the other experts, and the rest of the community, someone is likely to be able to help you out. And yes, it's FREE!
Head on over and take the tour if you want to find out more about how it works – not only is it kind of fun, it's a little bit addicting… Or maybe I'm just a vintage geek like that? ;)
Save










by