Thrift Haul – Hoarder Estate Sale + Flea Market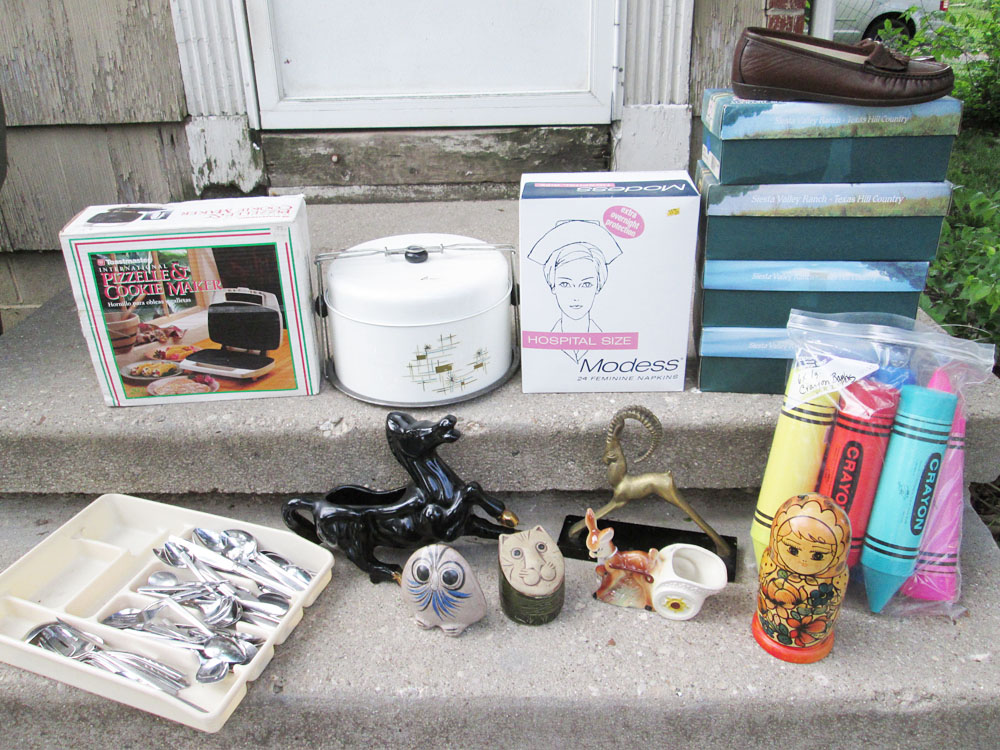 Before I talk about what I found this weekend, I've got a little life update to get off of my chest – things are crazy right now! I've taken on some more hours at my day job, and as of a couple of weeks ago the other half of Vintage Goodness – my boyfriend, Will – is working a full time job doing landscaping.
So, we are right smack dab in the middle of a big adjustment period, trying to fit everything in… Probably the biggest thing for me is that I've basically lost all the help Will gave me with the business – I can't ask him to do packages after a 10 hour day of doing manual labor! I mean I guess I could, but I'm just not that mean… ;)
I'm also playing housewife quite a bit more than I am used to – cooking dinner, washing dishes, doing laundry, etc. etc. – which is stuff that Will used to take care of so that I could take that time to do Vintage Goodness work. Needless to say, I've been having trouble keeping up with taking photos, listing, blogging… but I'm doing my best. I'm hoping over the next few weeks that a new, workable routine will settle in and I will be more on top of things that I have been lately.
Wish me luck, I need it!!!
Even with all this stuff going on, I've managed to make it out to some sales – it's kind of funny how the sourcing part of the business rarely suffers no matter what is happening… ;)
This weekend I hit a hoarder's estate sale – not a "can't throw away trash" type hoarder, but a "buy a bunch of stuff and never use it" type of hoarder. That's the best kind when you are trying to find stuff to sell! It was part one of the sale – part two is going to have the entire contents of the basement, which is completely full, and two bedrooms that were closed off this time around. I can't wait!
I also hit the little flea market that is about a half an hour from my house – it was packed because of the holiday weekend, and I was able to bring home a few fun things…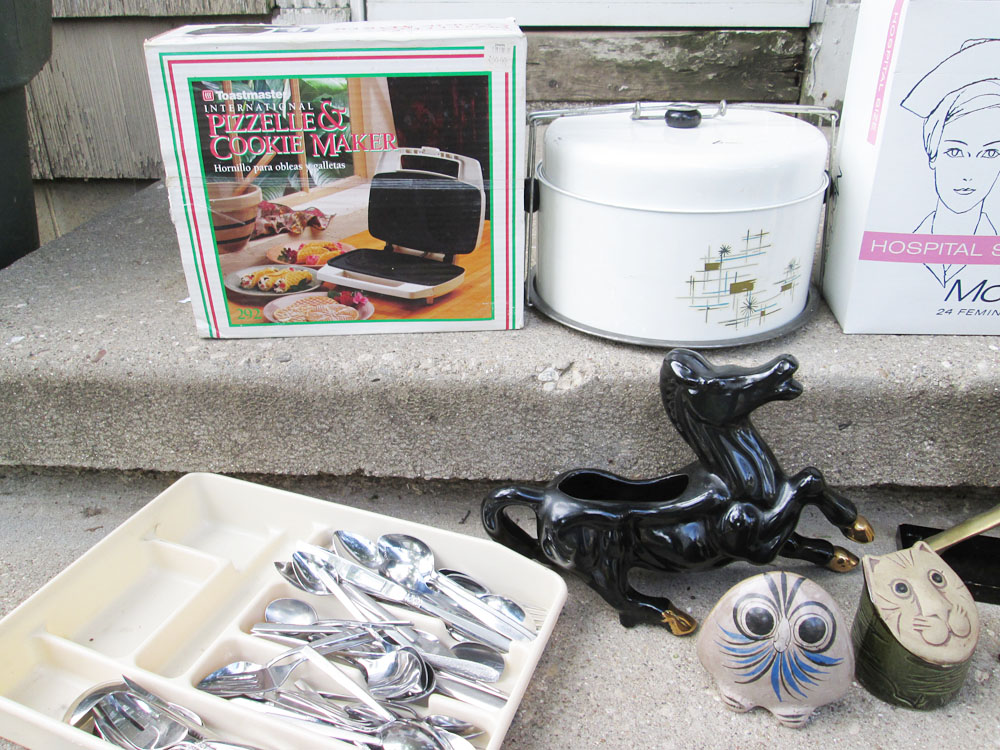 Stainless Oneida Flatware Set
Toastmaster Pizzelle Maker
Metal Cake Carrier
Black Horse Planter
Mexico Owl Figurine
Made In Japan Cat Bank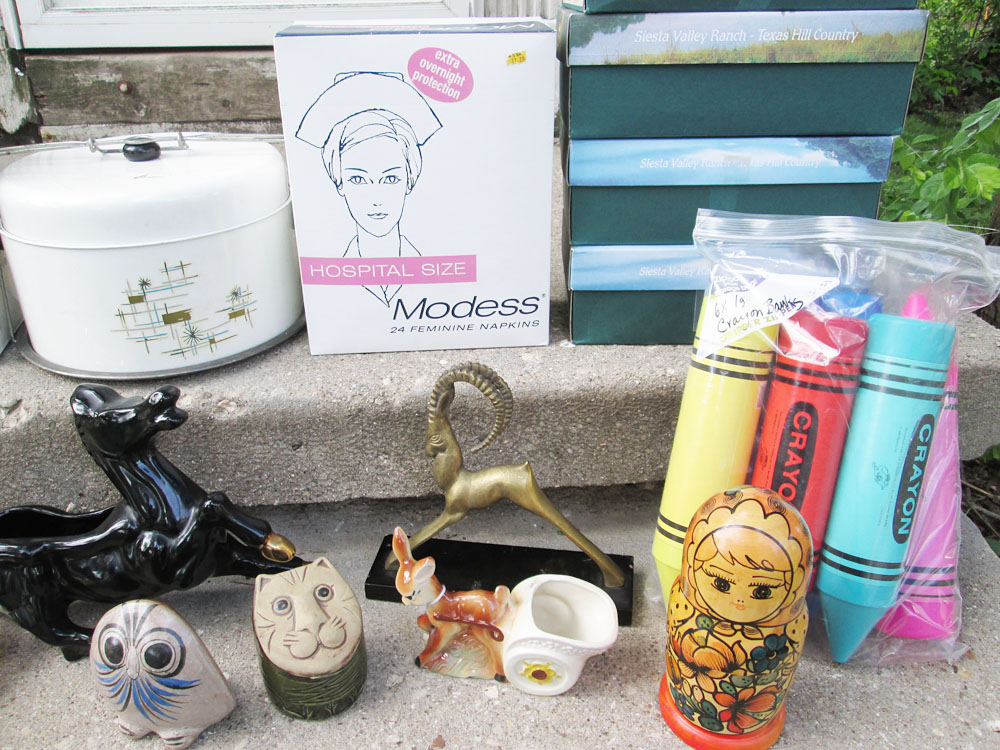 Modess Feminine Napkins – the last box like this that sold on eBay went for $132.50!
Brass Antelope (I think?) Figurine
Donkey Cart Planter
Russian Matryoshka Nesting Doll
5 Pairs Of New SAS Shoes
6 1980's Crayon Banks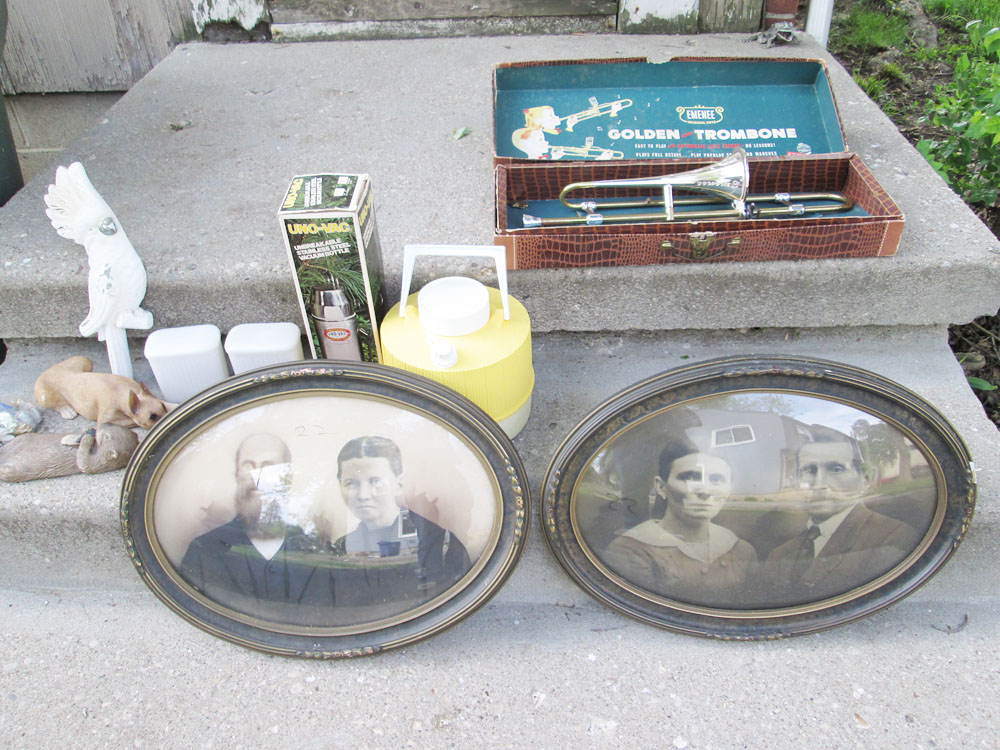 Besides what I found, my Dad went to an auction the other day and had some luck… Thanks Dad!!
2 Convex Glass Framed Portrait Photos
Emenee Toy Trombone
Thermos Jug
Stainless Steel Thermos
2 Hazel Atlas Milk Glass Refrigerator Dishes
Chalkware Cockatoo
Wade Ceramic Animal Figurines
Dog & Otter Figurines
The moral of the story? I need to get listing! I did list some things last week – not that you all would know it, since I didn't get my blog post done on Saturday, OR the email newsletter… but I swear I'm going to do better, or die trying!










by