Trends & My Haul From The Springfield Extravaganza Flea Market!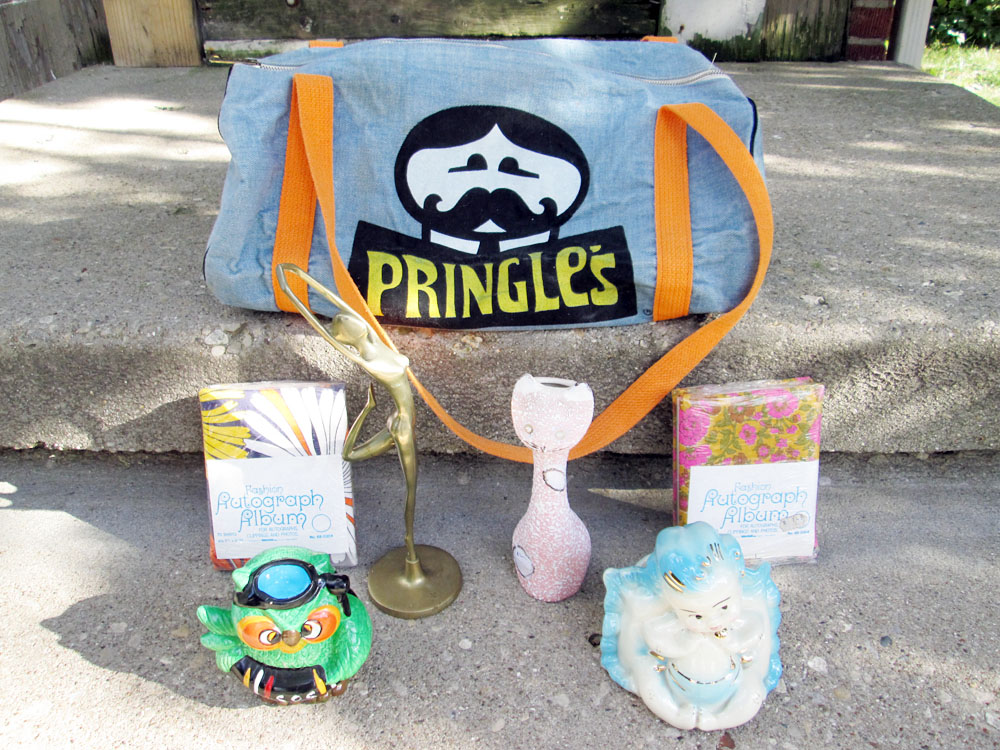 Since shopping has been so bad lately (see my last post if you want to read more of me whining and crying about it, because really, why wouldn't you?), I decided to make the 45 minute trip out to the Springfield Extravaganza Antique Show & Flea Market. I went on Sunday, hoping to score some last day deals.
First off I have to say, I am a terrible blogger – I was so focused on finding STUFF that I never stopped to take any photos. I was running all over searching out the 50% off tables, the $5 tables, the $3 tables, the $1 tables… you get the idea. The show is HUGE – I was there for about 4 hours and didn't see it all – not even close.
I didn't come home with much. Prices are generally high – so even when stuff is discounted, there isn't much meat left on the proverbial bone for me to be able to buy stuff to list in my shops. Plus I was focusing on smalls, because I had to park way out in a field – I didn't want to be lugging large / heavy / awkward items around the show, or back and forth to my van.
This is where I have to admit to being not just a terrible blogger, but a terrible flea market shopper as well:
#1 – I own a wheeled cart that I could have taken with me. But, I forgot that I own said wheeled cart, and left it at home.
#2 – I broke 3 items (a little deer planter, and two little made in Norway vases) while I was shopping because I dropped my bag.
I blame all this on being a relative show shopping amateur (obviously) since I mostly shop estate sales and yard sales… Still, maybe next time I will remember my mistakes and do better. Maybe?
OK, let's check out what I came home with, then I'll talk about the trends that I managed to notice…
Pringles Duffle Bag
Vintage Autograph Book
Owl Bank
Brass Dancer Figurine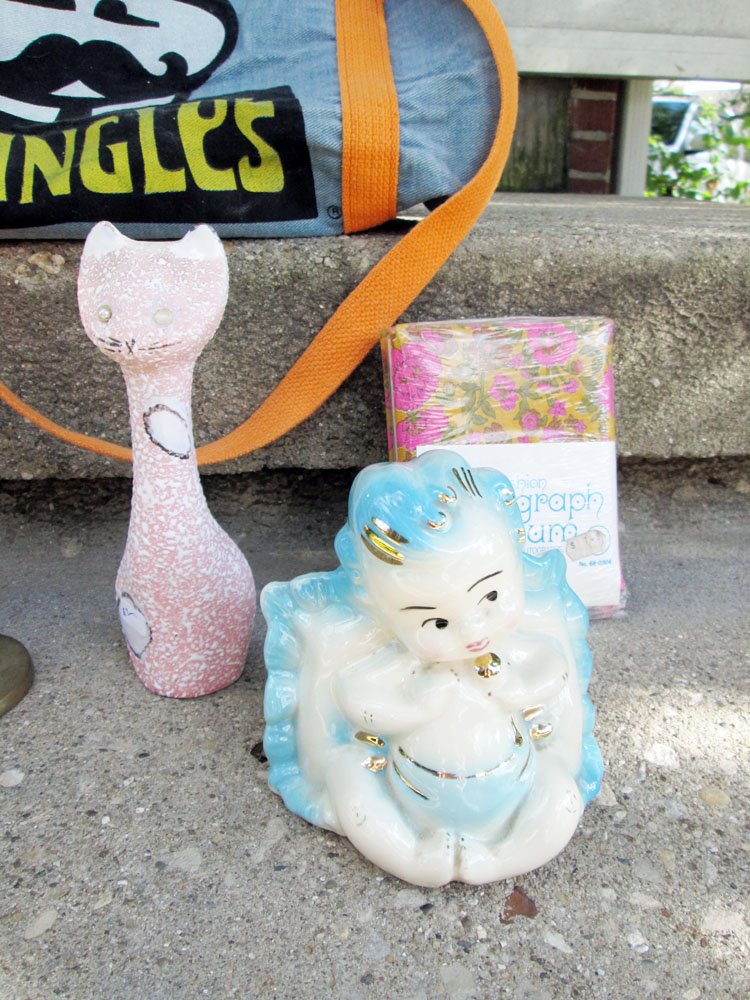 Pink Tall Cat Vase
Hull Baby Boy Planter
Vintage Autograph Album
THE TRENDS
Farmhouse Chic – It's not really as frilly as Shabby Chic, or as basic as Primitive, it's kind of somewhere in between.
One Note Dealers – there were a LOT of booths that were dedicated to one type of thing. I saw a vintage fans booth, a vintage Pyrex and Corning Ware booth, a vintage lamps booth, a couple vintage cast iron booths, several booths that were all vintage glassware… You get the idea. Since most dealers have a variety of items, these niche dealers kind of stuck out as you were walking by, which I guess is an advantage at such a big show.
Upcycling – Giving vintage items a makeover is still going strong. I didn't spend a lot of time looking at any of it though.
WHAT WAS MISSING
Industrial – In past years this was a big chunk of the show. Not so much this time, with the exception of metal sign letters… There were a lot of those.
Mid-Century Modern – This has always been the case with this show, the mid-century focused dealers are few and far between, and 60's and 70's items are especially hard to come by.
People Buying Globes – I am apparently not alone in being "over" globes. I saw a TON of them, in fact it seemed like every other dealer had at least one – but they weren't selling, just sitting there on the last day of the show looking sad.
Overall I had a good time, maybe I'll go again next year… With my cart! And my camera! ;)
Save










by